Eliminare file inutili su Windows con KCleaner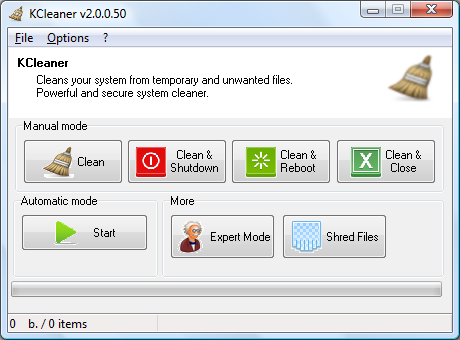 KCleaner è progettato per essere il pulitore più efficiente per Hard Disk, tracciando qualsiasi byte inutile per darti tutte le risorse di cui hai bisogno per i tuoi documenti, musica, foto, film.
Descrizione sul sito del produttore:
KCleaner is designed to be the most efficient Hard Disk cleaner, tracking every useless byte in order to give you all the ressources you may need for your documents, music, pictures, movies,.. It is the first product of this kind featuring a full automatic mode, which works in background so that you don't have to care about when to launch it. As a proof of its efficiency, it often finds up to many Gb not even seen by its competitors so… give KCleaner a try ! And if data security is something you are interested in, you'll love the secured file deletion methods proposed by KCleaner, making deleted files unrecoverable by any known mean.
Features
Detects and cleans temporary and useless files (cache, unused setup files…)
Automatic mode working in background
Secured file deletion method
Expert mode : let users control any file deletion done by KCleaner
Internationalization support.
Solo per oggi, KCleaner 3.2.8 è offerto gratuitamente.

Per usufruire dell'offerta dovete scaricare ed installare il programma cliccando sul link al fondo dell'articolo, dovete scompattate il file .ZIP, quindi avviare il file .EXE (se presente nel file) appena scaricato ed installate il programma seguendo la procedura di installazione guidata di KCleaner 3.2.8 ed una volta completata l'installazione cliccate sul file di testo ReadMe.txt per sapere come ricevere la licenza gratuita in modo da attivare la versione completa di KCleaner 3.2.8.
Potete scaricare KCleaner 3.2.8 gratis cliccando sul seguente pulsante: