Key Manager: Potente Hotkeys per potenziare Tastiera e Mouse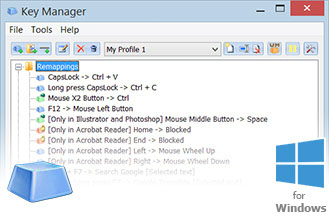 Key Manager ti permette di rimappare le combinazioni di trasti e pulsanti del mouse, le sequenze dei tasti e pulsanti del mouse, e le lunghe pressioni (premi e tieni giù).
Puoi visualizzare le azioni sotto forma di menu pop-up che possono essere aperte con hotkey, registra, edita ed esegui macro (sequenze dei tasti), emula i click del mouse, digita ed incolla il testo (compreso testo formattato), compila all'istante i moduli sui siti web (puoi inserire il testo correntemente selezionato nei rispettivi parametri dell'indirizzo), modifica il layout e le lettere maiuscole e minuscole del testo selezionato, gestisci le impostazioni di potenza del tuo monitor e computer, controlla il volume oppure impostalo ad un certo livello, muovi e ridimensiona le finestre e molto altro.
Features
Show popup menus with a list of user-defined actions;
Press and block keys, key combinations, press mouse buttons and emulate mouse wheel rotation;
Position and shift the mouse cursor relative to the entire screen, active window, and previous position with the option of returning the cursor to the initial position once the action is performed;
Paste user-defined RTF or Plain text to any application with an option to insert current time, date and other information from a template;
Launch any application or open a file or a folder (to create an event, just drag and drop a shortcut, folder or file onto the action window);
Open a specific webpage;
Instantly create an email;
Perform actions on all windows or active ones only (close, minimize, maximize, restore, hide, show, redraw, move, resize);
Manage your computer's power, monitor's power, sound settings, adjust volume, start the screensaver and much more.
Solo per oggi, Key Manager 1.13 è offerto gratuitamente.

Per usufruire dell'offerta dovete scaricare ed installare il programma cliccando sul link al fondo dell'articolo, dovete scompattate il file .ZIP, quindi avviare il file .EXE (se presente nel file) appena scaricato ed installate il programma seguendo la procedura di installazione guidata di Key Manager 1.13 ed una volta completata l'installazione cliccate sul file di testo ReadMe.txt per sapere come ricevere la licenza gratuita in modo da attivare la versione completa di Key Manager 1.13.
Potete scaricare Key Manager 1.13 gratis cliccando sul seguente pulsante:
🔔
Hai bisogno di aiuto o assistenza?
Scrivici sul nostro canale Telegram
>>> QUI
!
📱
Cerchi smartphone scontati?
Comprali al miglior prezzo su
>>> Amazon
!
🎯Risparmia con
OfferTech
su Telegram: trova le
migliori offerte tecnologiche
!
🌟Se hai fame di notizie, segui
YourLifeUpdated
 su 
Google News
: 
clicca sulla stellina per inserirci nei preferiti
!
VUOI AMAZON MUSIC UNLIMITED GRATIS? SCOPRI COME!
Vuoi ricevere ogni giorno i nostri articoli via email GRATIS? Scrivi la tua email qua sotto