Perfect PDF 9 Converter è il programma gratis di oggi che vi permetterà di creare e convertire PDF ma anche di modificarli, prendere annotazioni e proteggere i file PDF molto facilmente ed in pochi click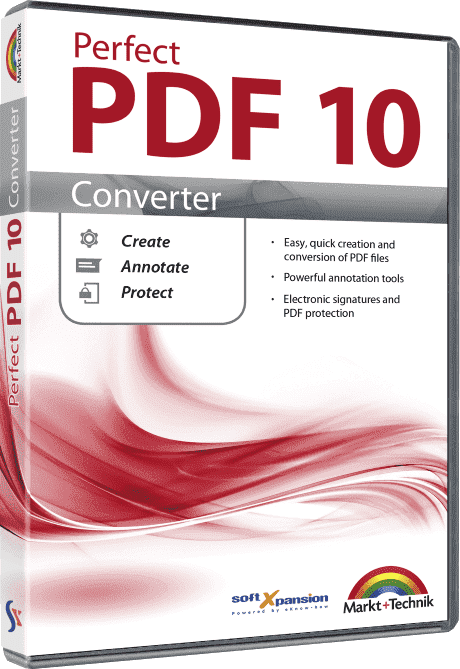 Miglior Programma Gratuito per Creare e Convertire PDF
Perfect PDF 9 Converter permette la creazione di PDF risparmiando tempo, in ufficio oppure a casa, ed è il programma perfetto per i principianti.
Altre funzioni comprendono stampa e firma di file PDF, funzioni per riorganizzare la struttura del documento (muovi, rimuovi, ridimensiona e ruota pagine) e per annotare documenti PDF utilizzando appunti di testo, markup oppure penna. Puoi anche creare documenti PDF da file di testo o immani ne ed inserire le pagine da file di immagini oppure immagini scansione. Un visualizzatore per file PDF o XPS è anche compreso.
Features
PDF Printer: create PDF files in every application that has print function, via a virtual printer
Create PDF files from text, RTF, XPS or image files or scanned images
Integration in other software packages.
Change the structure of PDF documents
Advanced search function to find text in folders and embedded PDF files, in document properties, bookmarks and annotations
Snapshot, measuring and selection tools, magnifier
Solo per oggi, Perfect PDF 9 Converter è offerto gratuitamente.

Per usufruire dell'offerta dovete scaricare ed installare il programma cliccando sul link al fondo dell'articolo, dovete scompattate il file .ZIP, quindi avviare il file .EXE (se presente nel file) appena scaricato ed installate il programma seguendo la procedura di installazione guidata di Perfect PDF 9 Converter ed una volta completata l'installazione cliccate sul file di testo ReadMe.txt per sapere come ricevere la licenza gratuita in modo da attivare la versione completa di Perfect PDF 9 Converter.
Potete scaricare Perfect PDF 9 Converter gratis cliccando sul seguente pulsante: