Miglior programma Windows To Go Creator per creare Windows 10, 8 o 7 Portable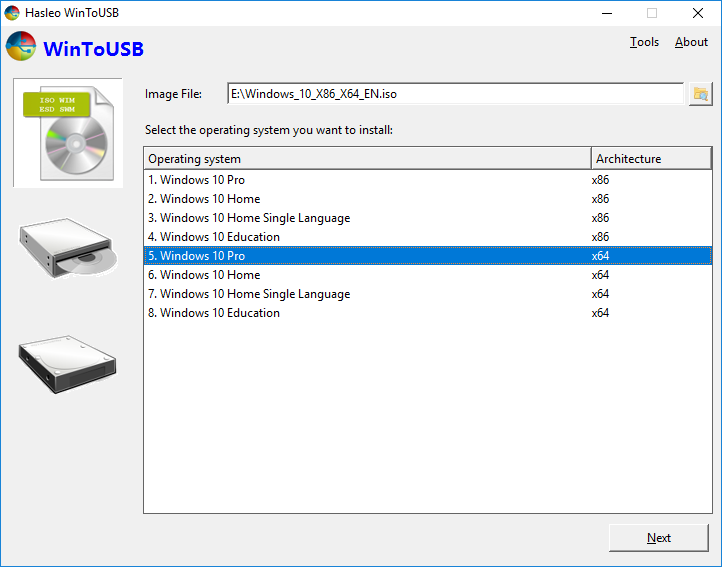 WinToUSB è il Migliore e Primo al Mondo Windows To Go Creator che ti permette di installare ed eseguire un sistema operativo Windows al completo delle sue funzioni, su un hard drive esterno oppure flash drive USB.
È così semplice ed efficiente, con pochi passaggi e in pochi minuti, puoi creare il tuo primo Windows 10/8/7 portatile direttamente da un file immagine ISO, WIM, ESD, SWM, VHD, VHDX oppure un CD/DVD drive oppure puoi usarlo per clonare una installazione esistente del SO Windows 10/8/7 su un drive USB come Windows portatile.
WinToUSB supporta anche la creazione di un flash drive Windows USB da file ISO d'installazione per Windows 10/8.1/8/7/Vista/2016/2012/2010/2008, così puoi installare Windows da una flash drive USB in maniera facile.
Solo per oggi, WinToUSB Professional 3.9 è offerto gratuitamente.

Per usufruire dell'offerta dovete scaricare ed installare il programma cliccando sul link al fondo dell'articolo, dovete scompattate il file .ZIP, quindi avviare il file .EXE (se presente nel file) appena scaricato ed installate il programma seguendo la procedura di installazione guidata di WinToUSB Professional 3.9 ed una volta completata l'installazione cliccate sul file di testo ReadMe.txt per sapere come ricevere la licenza gratuita in modo da attivare la versione completa di WinToUSB Professional 3.9.
Potete scaricare WinToUSB Professional 3.9 gratis cliccando sul seguente pulsante: