Migliora il tempo passato al Computer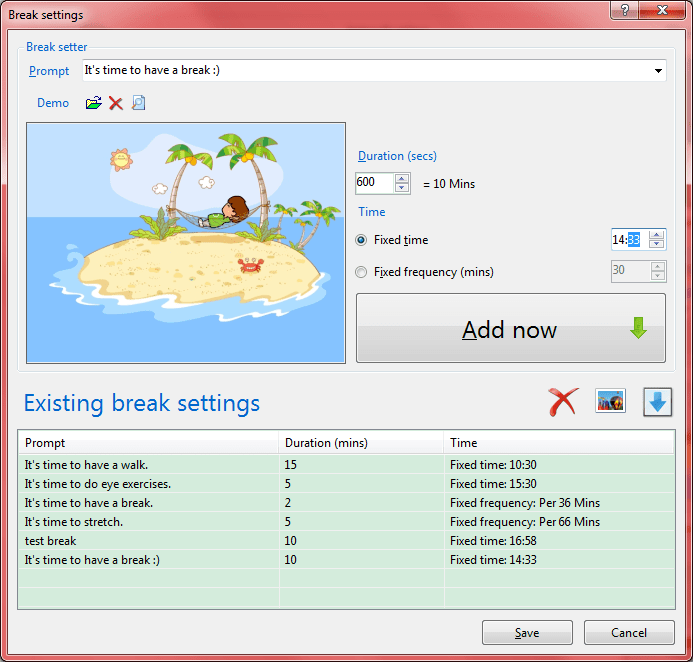 Si occupa della tua salute mentre utilizzi i PC!
Caratteristiche principali:
Impostazioni flessibili;
Demo stretching professionali;
Statistiche conformità intervalli.
Licenza Singola (1 PC) (Licenza Illimitata SENZA aggiornamenti) è compresa in questa versione. Clicca qui per ottenere uno sconto ENORME per altre licenze con Aggiornamenti Illimitati il giorno della promozione!
PC WorkBreak provides proper reminders to reduce your RSI (Repetitive Strain Injury) risk. It offers multi-type break reminders such as micro-break, stretch, eye exercises and walk, based on your PC usage model. Compliance rates are also provided. Follow a good break setting will help heavy PC user to release body pain induced by long sitting or frequent keyboard/mouse usage. All break settings are configurable, and you can use your favorite picture or animation (gif) as reminder demo.
Solo per oggi, PC WorkBreak 8.0 è offerto gratuitamente.

Per usufruire dell'offerta dovete scaricare ed installare il programma cliccando sul link al fondo dell'articolo, dovete scompattate il file .ZIP, quindi avviare il file .EXE (se presente nel file) appena scaricato ed installate il programma seguendo la procedura di installazione guidata di PC WorkBreak 8.0 ed una volta completata l'installazione cliccate sul file di testo ReadMe.txt per sapere come ricevere la licenza gratuita in modo da attivare la versione completa di PC WorkBreak 8.0.
Potete scaricare PC WorkBreak 8.0   gratis cliccando sul seguente pulsante: