Migliorare l'audio su Windows da qualsiasi app o programma
EqualizerPro ti permette di migliorare l'audio in uscita dal tuo PC, a prescindere dal programma che stai usando. Se ascolti musica, guardi film, giochi, o fai qualsiasi altra cosa che produce audio sul tuo computer, potrai trarre vantaggi da questo prodotto. EqualizerPro è facile da usare ed ha molte caratteristiche progettate per aiutarti a migliorare l'audio.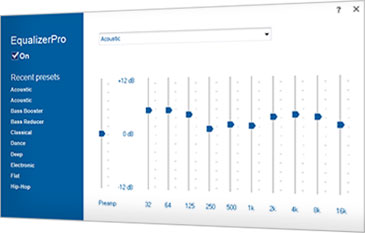 Ha un equalizzatore a 10 bande, più di 20 modelli pre programmati, come Jazz, Hip Hop, e molto altro e l'opzione di creare modelli personalizzati in base ai tuoi desideri.
Utilizzalo con iTunes, Pandora, Skype, Microsoft Windows Media Player, Spotify, e molto altro! Questo è il miglior tool per migliorare l'audio.
Features
10 band equalizer With the 10 band equalizer you have more control over tone and pitch. Play around with the bands, moving them up and down, and get a feel for the effect they make on the sound. A small adjustment can have a major impact.
Bass boost effect Bass boost is an audio effect that amplifies low frequencies of the sound. Enhance your bass tone without masking it, providing for a smooth clean boost.
20+ equalizer presets EqualizerPro comes with over 20 pre-programmed presets, specially designed for popular listening modes. You will find the common "Rock" or "Jazz" presets for example, as well as unique presets such as "Vocal Booster".
Custom presets Create custom presets to use with your different programs. We all have different preferences when it comes to listening to music, watching movies, or playing games on your PC. Make unique presets and save them for later use.
Preamp volume control Using this single band, you can boost low tones and enhance the overall audio output without the need to adjust each band separately.
Easy on/off switch With the user friendly and easy-to-use design of EqualizerPro you can easily toggle the program on and off according to your needs.
Solo per oggi, EqualizerPro è offerto gratuitamente.

Per usufruire dell'offerta dovete scaricare ed installare il programma cliccando sul link al fondo dell'articolo, dovete scompattate il file .ZIP, quindi avviare il file .EXE appena scaricato e installate il programma seguendo la procedura guidata di EqualizerPro una volta completata l'installazione cliccate sul file di testo ReadMe.txt per sapere come ricevere la licenza gratuita in modo da attivare la versione completa di EqualizerPro.
Potete scaricare EqualizerPro gratis cliccando sul seguente pulsante: