Monitora e Registra le operazioni di Windows Explorer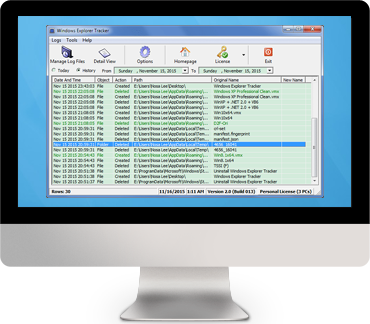 Windows Explorer Tracker è utilizzato per tracciare/monitorare e registrare le operazioni in Windows Explorer automaticamente.
Supporta file, cartelle, drive e supporti di memoria multimediali;
Supporta le operazioni "Cancella", "Rinomina", "Crea", "Inserisci", "Aggiungi" e "Rimuovi";
Carica rapidamente le cronologie;
Salva le operazioni per data per una gestione agevole;
Supporta il tracking via host remoto attraverso drive di rete mappate.
Descrizione in lingua Inglese sul sito del produttore:
Windows Explorer Tracker is used to trace/monitor and record the operations for Windows automatically, such as 'Delete', 'Rename', 'Create', 'Insert', 'Add' and 'Remove' actions of files, folders, drives and storage media, you can also use it to track and record operations on remote host via the mapped network drives.

It logs the original operations in some .log files, and names them by date so as to manage them conveniently.

You can quickly load the history logs by specifying the start and end date on its main interface, manage the log files in Windows Explorer, find the specific operations and permanently delete history operations in log files. At last, you can set the display format of operation date and time on the Options interface.

As above, if you need to retrace the Windows steps on a regular basis might find it useful.
Solo per oggi, Windows Explorer Tracker 2.0 è offerto gratuitamente.

Per usufruire dell'offerta dovete scaricare ed installare il programma cliccando sul link al fondo dell'articolo, dovete scompattate il file .ZIP, quindi avviare il file .EXE (se presente nel file) appena scaricato ed installate il programma seguendo la procedura di installazione guidata di Windows Explorer Tracker 2.0 ed una volta completata l'installazione cliccate sul file di testo ReadMe.txt per sapere come ricevere la licenza gratuita in modo da attivare la versione completa di Windows Explorer Tracker 2.0.
Potete scaricare Windows Explorer Tracker 2.0 gratis cliccando sul seguente pulsante: