Music Editor potente per modificare e mixare Audio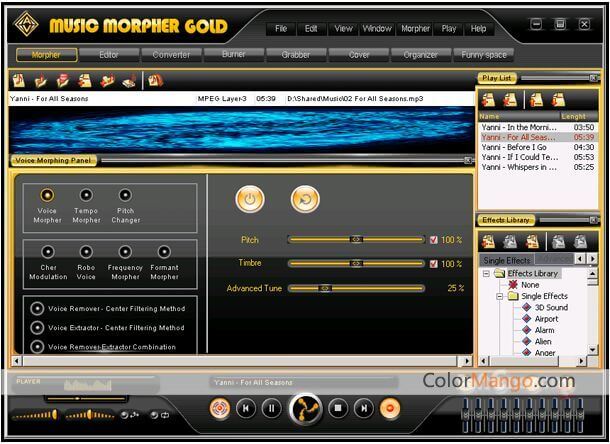 AV Music Morpher Gold è il miglior editor musicale, che offre tutte le funzioni per mixare di cui avrai bisogno. Con un'interfaccia utente ben progettata, il programma promette di trasformare qualsiasi PC umile in uno studio di registrazione completo con tool audio facili da usare ma potenti.
Le funzioni comprendono un DJ virtuale per semplici compiti da DJ, un modulo Convertitore per convertire le tue tracce in qualsiasi formato audio, un modulo Morpher per l'editing e il mixing con effetti professionali, il nostro celebre e patentato Voice Remover e Voice Extractor, un Masterizzatore CD pronto da utilizzare e molti altri utili tool.
Features
The DJ module helps users do simple DJ tasks such as re-mixing songs, adding sound FX, adjusting channels, EQ or any one of the hundreds of included studio-quality effects.
The Converter module helps convert multi-format audio files more quickly and conveniently. The Morpher module and Advanced module are newly combined, and a new compact player mode are only some of the great improvements in this version 5.0 for the convenience of the users.
The program is promising to turn any humble PC into a fully-fledged recording studio, giving users the power to make their own pop songs, funky hip hop, or DJ remixes. When a user has finished his masterpiece, there's a ready-to-use CD burner for him to burn his favorite songs to CD and share them with his friends.
Solo per oggi, AV Music Morpher Gold 5.0.59 è offerto gratuitamente.

Per usufruire dell'offerta dovete scaricare ed installare il programma cliccando sul link al fondo dell'articolo, dovete scompattate il file .ZIP, quindi avviare il file .EXE (se presente nel file) appena scaricato ed installate il programma seguendo la procedura di installazione guidata di AV Music Morpher Gold 5.0.59 ed una volta completata l'installazione cliccate sul file di testo ReadMe.txt per sapere come ricevere la licenza gratuita in modo da attivare la versione completa di AV Music Morpher Gold 5.0.59.
Potete scaricare AV Music Morpher Gold 5.0.59 gratis cliccando sul seguente pulsante: