Programma di Recupero dati adatto per recuperare tutti i file da qualsiasi supporto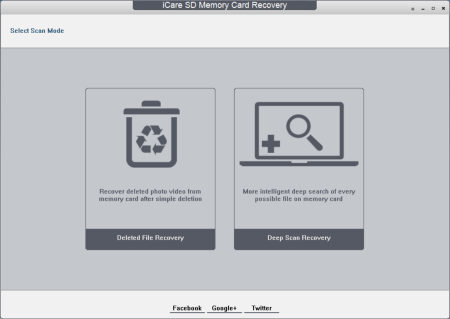 Programma di recupero dati adatto per tutti i tipi di situazioni di perdita dati compresi la cancellazione, formattazione, crash del sistema, infezione da virus, drive raw. Supporta il recupero di dati da telefono cellulare Android/schede di memoria fotocamera SD (SDHC, SDXC, MicroSD), Schede CF, schede XD, ecc di varie marche.
Features
Memory card recovery When 

Formatted card

 by mistake/intentionally, card asking for reformatting, Not format error, data become inaccessible after format, virus removed files, deleted photo/video on phone/camera, wiped out phone/card, etc.

Device Supported 

Mobile/Camera SD Memory Card, MicroSD/tf, xd, CF Card, SDXC, etc.

File Systems Supported 

RAW, FAT32, FAT16, FAT12, NTFS5, NTFS, exFat

Recover data from All kinds of memory card eg 

Sandisk, Samsung, Kingston, Silicon Power, Beeway, Generic, PNY, Transcend e molte altre
Recover 2GB data for free with Free Edition
Solo per oggi, iCare SD Card Recovery 1.1.2 è offerto gratuitamente.

Per usufruire dell'offerta dovete scaricare ed installare il programma cliccando sul link al fondo dell'articolo, dovete scompattate il file .ZIP, quindi avviare il file .EXE (se presente nel file) appena scaricato ed installate il programma seguendo la procedura di installazione guidata di iCare SD Card Recovery 1.1.2 ed una volta completata l'installazione cliccate sul file di testo ReadMe.txt per sapere come ricevere la licenza gratuita in modo da attivare la versione completa di iCare SD Card Recovery 1.1.2.
Potete scaricare iCare SD Card Recovery 1.1.2 gratis cliccando sul seguente pulsante: