Programma per recuperare File in pochi click su Windows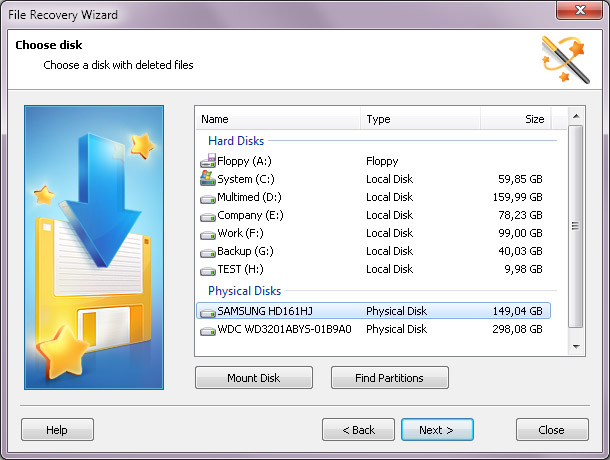 Magic Uneraser è un tool di recupero di dati di nuova generazione, che ti permette di recuperare le informazioni smarrite e cancellate dalla una varietà di supporti multimediali.
Il prodotto compatibile con Windows 10 offre il recupero di file e cartelle con guida completa passo dopo passo da hard drive sani, danneggiati, formattati e persino inaccessibili, schede di memoria e flash drive USB. Il programma supporta tutti i sistemi di file Windows: FAT / NTFS / NTFS 5 ed è in grado di recuperare i file compressi NTFS.
The data recovery tool supports the recovery from deleted partitions, formatted volumes and repartitioned hard drives. The tool scans the entire surface of the hard disk or reads the full content of a solid-state drive in order to reliably detect, locate and read the content of a deleted partition. If the disk has been formatted, the tool can read raw sectors from the disk in an attempt to detect the beginning of multiple known file types. During this process, the tool will not need the file system to be present, and will successfully restore the files even if the file system is emptied by the format operation. Deleted partitions can be similarly detected by reading blocks of raw data from the disk surface, matching and analyzing raw data structures in an attempt to detect the beginning and size of deleted partitions.

Once all partitions are successfully detected, the tool can perform further analysis by accessing their file systems and reading files off deleted partitions. More often than not, deleted partitions are much less of a problem than formatted hard drives or deleted files.
Solo per oggi, Magic Uneraser Home 4.1 è offerto gratuitamente.

Per usufruire dell'offerta dovete scaricare ed installare il programma cliccando sul link al fondo dell'articolo, dovete scompattate il file .ZIP, quindi avviare il file .EXE (se presente nel file) appena scaricato ed installate il programma seguendo la procedura di installazione guidata di Magic Uneraser Home 4.1 ed una volta completata l'installazione cliccate sul file di testo ReadMe.txt per sapere come ricevere la licenza gratuita in modo da attivare la versione completa di Magic Uneraser Home 4.1.
Potete scaricare Magic Uneraser Home 4.1 gratis cliccando sul seguente pulsante: