Proteggi le tue password e i tuoi file Personali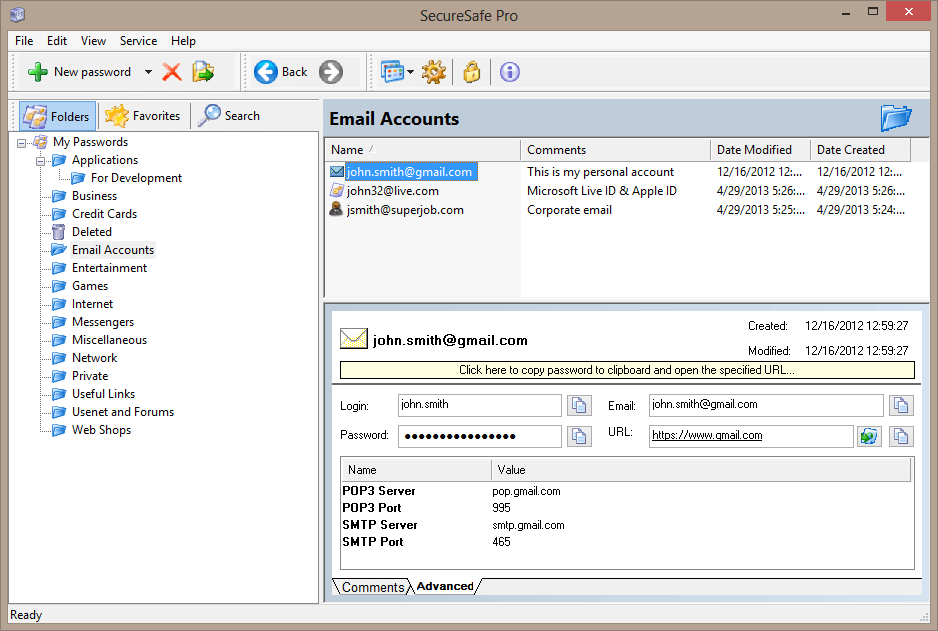 Difficile ricordare tutte le tue password e login? Vuoi utilizzare solo password sicure, uniche per ogni accesso? Vuoi conservare i file privati in un posto di memoria codificato? Download Password Manager SecureSafe Pro – proteggerà le tue password e i tuoi file riservati. Conserva tutto dentro un file sicuro crittografato sul tuo computer, protetto con uno standard di crittografia a livello militare.
Dovrai ricordare solo una password principale per accedere ai tuoi file senza password. SecureSafe Pro Password Manager ha un generatore random di password incorporato, così puoi creare ed utilizzare solo password forti per ogni accesso, in grado di resistere ad attacchi brutali da parte di hacker.
Adesso SecureSafe Pro è in grado di funzionare come una vera app portatile. Puoi trovare tutte le istruzioni nella cartella di installazione.
Features
No need to remember passwords.
Keep passwords and private files secure on your computer, protected by a master password and military-grade encryption standard AES-256.
A built-in random password generator will create strong unique passwords.
Can be stored on a USB flash drive as a portable Password Manager (i.e. usb Password Manager).
Free sync across devices via any cloud service (Dropbox, Google Drive, etc.).
Solo per oggi, Secure Safe Pro 3.6 è offerto gratuitamente.

Per usufruire dell'offerta dovete scaricare ed installare il programma cliccando sul link al fondo dell'articolo, dovete scompattate il file .ZIP, quindi avviare il file .EXE (se presente nel file) appena scaricato ed installate il programma seguendo la procedura di installazione guidata di Secure Safe Pro 3.6 ed una volta completata l'installazione cliccate sul file di testo ReadMe.txt per sapere come ricevere la licenza gratuita in modo da attivare la versione completa di Secure Safe Pro 3.6.
Potete scaricare Secure Safe Pro 3.6 gratis cliccando sul seguente pulsante: