Pulire il PC dai file inutili per velocizzare il Computer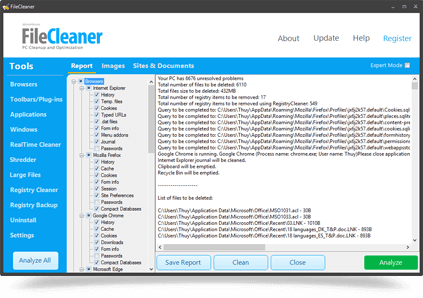 FileCleaner pulisce, accelera e protegge il tuo PC. Con il suo aiuto, puoi cancellare i file junk, disinstallare qualsiasi programma e qualsiasi toolbar di browser, e riparare gli errori di Windows.
Pulizia automatica e in tempo reale del PC
Ripara i comuni errori Windows.
Disinstalla qualsiasi programma
Rimuovi facilmente qualsiasi toolbar di browser
Gestione di file grandi
Trita file
Descrizione in inglese sul sito dello sviluppatore
The Problem: your computer is getting slower, there is not enough disk space, you get system errors and have no idea why. It's just too difficult to find the right settings to fix everything.

The Solution: FileCleaner automatically fixes PC errors, deletes system junk and protects your privacy. It intelligently repairs system settings, helps you uninstall rogue software, and does a complete PC cleanup for ultimate speed and performance.
Solo per oggi, FileCleaner Pro 4.7.0 è offerto gratuitamente.

Per usufruire dell'offerta dovete scaricare ed installare il programma cliccando sul link al fondo dell'articolo, dovete scompattate il file .ZIP, quindi avviare il file .EXE (se presente nel file) appena scaricato ed installate il programma seguendo la procedura di installazione guidata di FileCleaner Pro 4.7.0 ed una volta completata l'installazione cliccate sul file di testo ReadMe.txt per sapere come ricevere la licenza gratuita in modo da attivare la versione completa di FileCleaner Pro 4.7.0.
Potete scaricare FileCleaner Pro 4.7.0 gratis cliccando sul seguente pulsante: