Recupera Spazio sul tuo Hard Disk o SSD con questo programma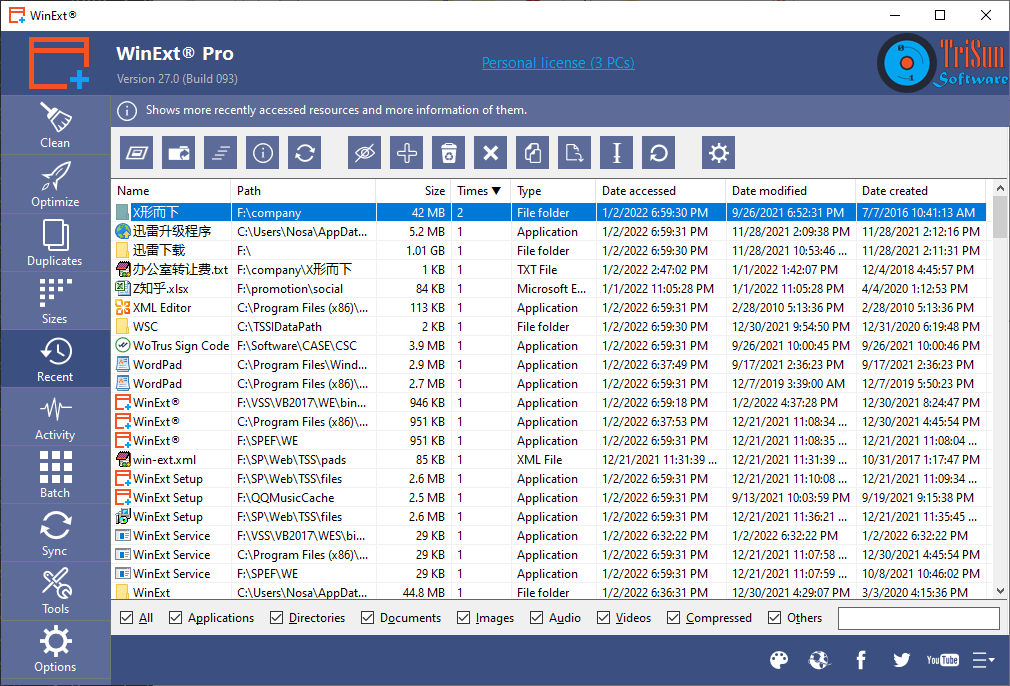 WinExt è un'app in grado di trovare e rimuovere file duplicati per liberare spazio, identificando grandi risorse per aiutarti a capire cosa sta assorbendo così tanto spazio, monitorare le directory per le operazioni sui file e altro.
Features
Find duplicate files;
Quickly find the larger resources;
See more information of recently accessed resources;
Monitor Windows activity;
Make batch operations on multiple resources;
Automatically or manually synchronize resources.
Changelog
Version
Release/Update Date
Features / Improvements
Bug Fixes
8.0
May 23, 2018

Important (I): fully supports native Português (Brasil).
I: fully supports native Türkçe.
I: fully supports native Polski.
I: modified the [Spent] field of the statistics area, more fluent syntax and more concise (Duplicates).
I: the singular and plural problems of some units about time and size.
Optimized the online help.
Optimized software texts.

I: cannot properly save and open the result file in Arabic (Duplicates).
I: if you are an old user and upgraded the product version, WE's Windows Service maybe cannot work.
I: translation error for [Times] column in French (Recent).
Solo per oggi, WinExt Pro 8.0 è offerto gratuitamente.

Per usufruire dell'offerta dovete scaricare ed installare il programma cliccando sul link al fondo dell'articolo, dovete scompattate il file .ZIP, quindi avviare il file .EXE (se presente nel file) appena scaricato ed installate il programma seguendo la procedura di installazione guidata di WinExt Pro 8.0 ed una volta completata l'installazione cliccate sul file di testo ReadMe.txt per sapere come ricevere la licenza gratuita in modo da attivare la versione completa di WinExt Pro 8.0.
Potete scaricare WinExt Pro 8.0 gratis cliccando sul seguente pulsante: