Recuperare dati anche da dispositivi formattati
Hai bisogno di un Data Recovery Software per il tuo hard drive, memoria usb, scheda di memoria? Prova iCare Data Recovery Pro, il programma incorporato professionale con scansione profonda è in grado di recuperare i dati dopo la cancellazione, la formattazione, il raw format, attacchi di virus, drive non riconosciuto e altri casi versatili quando i tuoi dati sul tuo drive diventano inaccessibili dovuto ad errori umani o altri errori sconosciuti.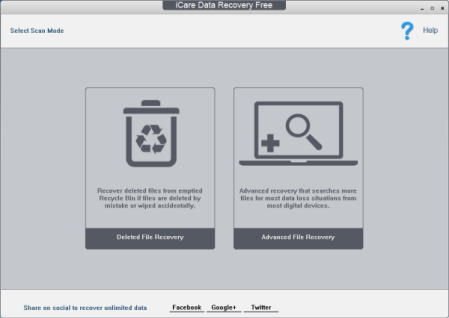 Le perdite di dati logici possono sempre essere recuperati quando il drive dove hai salvato i tuoi dati non è danneggiato fisicamente. iCare Data Recovery Pro è provvisto di prestazioni eccezionali nel recupero di file raw, che recupera ogni file possibile, persino i file vecchi, quando non sono stati sovrascritti.
Con iCare Data Recovery puoi recuperare dati da:
Formatting

Drive is not formatted, would you like to format now
Formatted card/drive by mistake
Not formatted error
Cannot format card/drive/disk

RAW file system

drive/card became RAW file system which was FAT32/NTFS
CHKDSK error message – "The type of the filesystem is RAW"
0 byte in size in the raw drive Properties
chkdsk is not available for raw drives

Accidental deleting

'Shift + Del' and lost data
Deleting files by right- clicking menu or just pressing 'Delete' button and some important files are gone too
Deleting file by emptying Recycle Bin without backup
Deleted partition by accident

Improper operation

Pressed Factory resetting by accident and lost data
Pulling out memory card while it is still working in the camera ie not safe removal
Memory card became unreadable by camera or PC
Unplug the memory card/usb while it is still woring on PC

Other reasons

Virus infection – you use your data/partition without notice
Power surges
Formatting a wrong partition
Ghost a wrong disk drive
Damaged partition table or MBR
File lost without a reason
Solo per oggi, iCare Data Recovery Pro 7.9 è offerto gratuitamente.

Per usufruire dell'offerta dovete scaricare ed installare il programma cliccando sul link al fondo dell'articolo, dovete scompattate il file .ZIP, quindi avviare il file .EXE appena scaricato e installate il programma seguendo la procedura guidata di iCare Data Recovery Pro 7.9 una volta completata l'installazione cliccate sul file di testo ReadMe.txt per sapere come ricevere la licenza gratuita in modo da attivare la versione completa di iCare Data Recovery Pro 7.9.
Potete scaricare iCare Data Recovery Pro 7.9 gratis cliccando sul seguente pulsante: