Ridimensionare le parzioni dell'Hard Disk
Hai bisogno di ridimensionare le partizioni senza formattare il disco? Prova IM-Magic Partition Resizer Pro per ridimensionare gli spazi delle partizioni senza riformattare il disco, reinstallare il SO, e senza procurarti problemi nello spostare grandi quantità di dati da un posto in un altro. Partition Resizer Pro sviluppato da IM-Magic Inc. è 100% sicuro per il ridimensionamento, la ridistribuzione dello spazio del disco, e ha un'interfaccia molto intuitivo.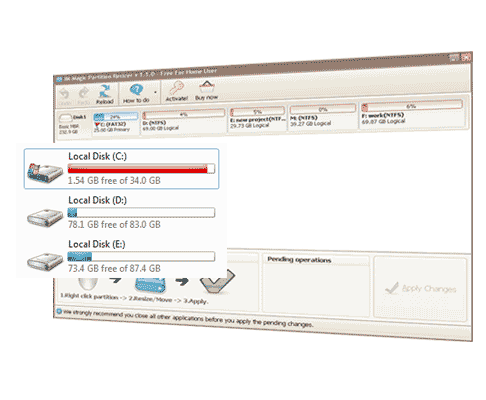 Features
Support resize any partition without data loss
Support FAT&NTFS file system
Support shrink partition
Support extend partition
Support reallocated disk partition
Support All levels of hardware figured RAID volumes
Format partition
Delet partition
Copy partition to unallocated free space
Create partition
Support WinPE and portable Edition
Windows 64 bit partition software – run Windows 64 bit independent exe on computer
Solo per oggi, IM-Magic Partition Resizer Pro 3.1.0 è offerto gratuitamente.

Per usufruire dell'offerta dovete scaricare ed installare il programma cliccando sul link al fondo dell'articolo, dovete scompattate il file .ZIP, quindi avviare il file .EXE appena scaricato e installate il programma seguendo la procedura guidata di IM-Magic Partition Resizer Pro 3.1.0 una volta completata l'installazione cliccate sul file di testo ReadMe.txt per sapere come ricevere la licenza gratuita in modo da attivare la versione completa di IM-Magic Partition Resizer Pro 3.1.0 .
Potete scaricare IM-Magic Partition Resizer Pro 3.1.0 gratis cliccando sul seguente pulsante: