Rimuovere oggetti, persone, data ed ora dalle foto ed immagini
Photo Stamp Remover è un utility di correzione delle foto, in grado di rimuovere watermark, timbri di date e altri oggetti indesiderati che appaiono sulle foto. Offrendo un processo completamente automatico, il programma utilizza una tecnologia di restauro intelligente per riempire l'area selezionata con la consistenza generata dai pixel attorno alla selezione, così che il difetto si fonde con il resto dell'immagine in maniera naturale.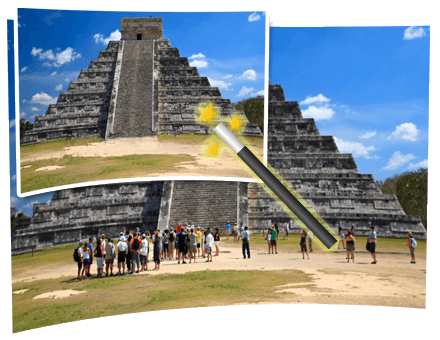 Ciò che richiede ore per correggere utilizzano un tool di clonazione può essere eseguito in un minuto utilizzando Photo Stamp Remover.
Features
Remove unwanted artifacts from new photos Using Photo Stamp Remover, you can erase cleanly unwanted artifacts like date stamps, watermarks, logos and undesirable objects. Face and skin imperfections, such as wrinkles, acne, and tattoos can be cleaned up too. The area with the removed artifact is filled with automatically generated texture. So, the photo looks natural, as if it had always looked like this.
Rejuvenate old photos Most families have hundreds of photos that they would like to preserve for a lifetime of enjoyment. Unfortunately, many of them sit in albums, books, or lay loose in boxes, getting scratches and accumulating dirt. Fortunately, there's Photo Stamp Remover. Just scan photos into the computer and use the watermark remover to clean up scratches, cracks, and dust spots.
Remove defects with a mouse click With Photo Stamp Remover, you can restore photos with the minimum of fuss. Just open a photo in the program, select the area that needs to be restored and click Preview. If you like what you see, click Start. That's basically all you need to do. Using its advanced restoration algorithm, the program removes the imperfection automatically. Defects blend into the background cleanly.
Remove artifacts by color You can select the unwanted artifact manually or select the color and watermark remover will remove the artifact that has the same color. For example, it can help you to remove from a photograph text and date stamps that have the same, solid black color.
Retouch more than one photo With its batch mode support, watermark remover enables you to process more than one photo at a time. For example, you can remove a date stamp, which your camera left on several photos. Simply define the area where the stamp is located and begin the healing process. Photo Stamp Remover will remove the date stamp on all photos automatically while you're sipping your coffee.
No need to install large photo editors Photo Stamp Remover is primarily aimed at everyday, casual camera owners who just want to remove some imperfections from photos without having to buy a more feature-rich photo editing suite and mess around with its user manual to get started.
Easy to get started – free trial You can try SoftOrbits Watermark Remover in action FOR FREE. Download a 30-day fully-functional trial today to restore or clean up your photos automatically.
Solo per oggi, Photo Stamp Remover 9.0 è offerto gratuitamente.

Per usufruire dell'offerta dovete scaricare ed installare il programma cliccando sul link al fondo dell'articolo, dovete scompattate il file .ZIP, quindi avviare il file .EXE (se presente nel file) appena scaricato ed installate il programma seguendo la procedura di installazione guidata di Photo Stamp Remover 9.0 ed una volta completata l'installazione cliccate sul file di testo ReadMe.txt per sapere come ricevere la licenza gratuita in modo da attivare la versione completa di Photo Stamp Remover 9.0.
Potete scaricare Photo Stamp Remover 9.0 gratis cliccando sul seguente pulsante: