Rimuovere Watermark, data ed ora impresse su Foto ed Immagini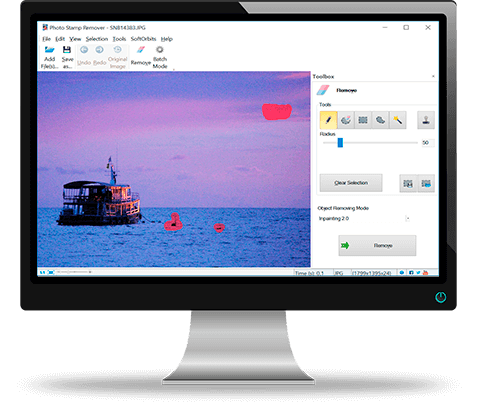 Photo Stamp Remover è una utility per la correzione delle foto in grado di rimuovere i watermark. i timbri delle date e altri oggetti indesiderati che appaiono sulle foto. Offrendo un processo completamente automatico, il programma utilizza una tecnologia di restauro intelligente per riempire l'area selezionata con la consistenza generata dai pixel attorno alla selezione, così che il difetto si fonde con il resto dell'immagine in maniera naturale.
Ciò che impiega ore per correggere utilizzando il tool di clonazione può essere eseguito in un minuto utilizzando Photo Stamp Remover.
Photo Stamp Remover is a photo correction utility that can remove watermarks, date stamps and other unwanted objects that appear on photographs. Offering a fully automatic process, the program uses an intelligent restoration technology to fill the selected area with the texture generated from the pixels around the selection, so that the defect blends into the rest of the image naturally. What takes hours to correct using the clone tool, can be accomplished in a minute using Photo Stamp Remover.
Solo per oggi, Photo Stamp Remover 9.1 è offerto gratuitamente.

Per usufruire dell'offerta dovete scaricare ed installare il programma cliccando sul link al fondo dell'articolo, dovete scompattate il file .ZIP, quindi avviare il file .EXE (se presente nel file) appena scaricato ed installate il programma seguendo la procedura di installazione guidata di Photo Stamp Remover 9.1 ed una volta completata l'installazione cliccate sul file di testo ReadMe.txt per sapere come ricevere la licenza gratuita in modo da attivare la versione completa di Photo Stamp Remover 9.1.
Potete scaricare Photo Stamp Remover 9.1 gratis cliccando sul seguente pulsante: