Riproduttore multimediale per Video ed Audio professionale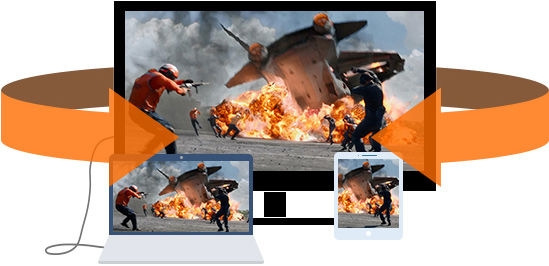 AV Media Player Morpher non è semplicemente un riproduttore. Questo programma è una applicazione completa integrata con un aspetto moderno, la funzione di audio surround virtuale e il miglior freeware selezionato di Audio4fun.
Con le due funzioni principali Virtual Sound Bar and AV Audio Editor, è il migliore tra i suoi simili e promette di offrirti la migliore esperienza durante la riproduzione di file multimediali in maniera professionale e la capacità di editare/convertire/registrare file multimediali e molto altro.
Audio 3D Surround
Don't have a 3D sound bar or surround speakers system in living room? No big deal! The Virtual Sound Bar will conveniently replace the high-cost, ordinary sound bars. Just connect your laptop or tablet to a TV set, play an HD movie full screen, sit back and enjoy being immersed in virtual surround sound.
Already have a sound bar? The Virtual Sound Bar will enhance it to make a much nicer sound image.
Solo per oggi, AV Media Player Morpher Plus 6.2.1 è offerto gratuitamente.

Per usufruire dell'offerta dovete scaricare ed installare il programma cliccando sul link al fondo dell'articolo, dovete scompattate il file .ZIP, quindi avviare il file .EXE (se presente nel file) appena scaricato ed installate il programma seguendo la procedura di installazione guidata di AV Media Player Morpher Plus 6.2.1 ed una volta completata l'installazione cliccate sul file di testo ReadMe.txt per sapere come ricevere la licenza gratuita in modo da attivare la versione completa di AV Media Player Morpher Plus 6.2.1.
Potete scaricare AV Media Player Morpher Plus 6.2.1 gratis cliccando sul seguente pulsante: