Segna le icone delle cartelle per indicare un livello di priorità, lo stato del lavoro ed altro
Una pratica estensione shell che ti permette di segnare le icone delle cartelle per indicare un livello di priorità (alto, basso, normale), livello di completamento del progetto (fatto, metà, in programma), stato del lavoro (approvato, rifiutato, in sospeso), e il tipo di informazione archiviato dentro (lavoro, importante, file temporanei e privati).
Semplicemente clicca col destro su qualsiasi cartella e seleziona l'icona o il colore da utilizzare dalla nuova aggiunta opzione di menu. Il download perfetto se hai bisogno di uno slancio in più per mettere in ordine i tuoi file.. Provalo adesso!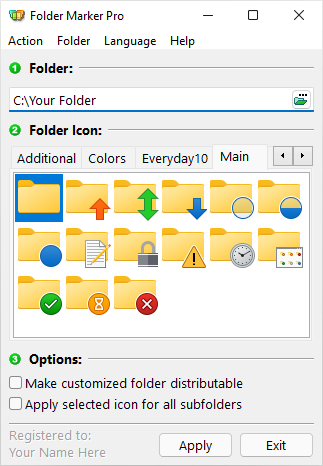 Features
Get organized – Prioritize your tasks or indicate process progress with 'priority' icons
Save time on finding file – Put your folders in order in 2 clicks
Protect valuable information from accidental removal – Highlight important folders that must not be removed
Personalize your workspace – Make your folders distinct from other folders, shared with other users on one PC or LAN
Solo per oggi, Folder Marker Home 4.2 è offerto gratuitamente.

Per usufruire dell'offerta dovete scaricare ed installare il programma cliccando sul link al fondo dell'articolo, dovete scompattate il file .ZIP, quindi avviare il file .EXE (se presente nel file) appena scaricato ed installate il programma seguendo la procedura di installazione guidata di Folder Marker Home 4.2 ed una volta completata l'installazione cliccate sul file di testo ReadMe.txt per sapere come ricevere la licenza gratuita in modo da attivare la versione completa di Folder Marker Home 4.2.
Potete scaricare Folder Marker Home 4.2 gratis cliccando sul seguente pulsante: