Simulatore di Voci professionale solo per oggi gratis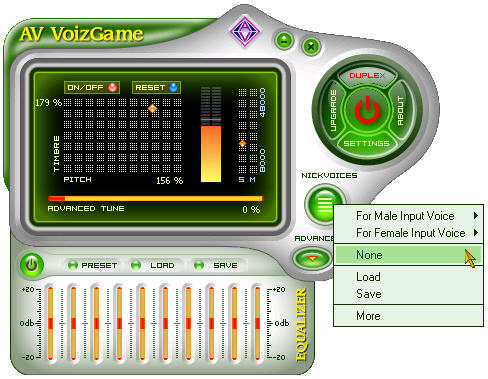 AV VoizGame è un innovativo strumento di chat vocale che cambia la tua vera voce per mascherare la tua vera identità e interpretare personaggi diversi nei giochi di ruolo online. Gioca ai tuoi giochi secondo le tue regole, con i tuoi personaggi preferiti; assumere il pieno controllo del sesso e dell'età dei personaggi del gioco.
Features
Cutting-edge voice changing technology works faultlessly in real time.
Compatible with almost all in-game voice chat systems, game platforms and VoIP like Discord, Twitch, Steam, Blizzard, and etc.
Unlimited 'nickvoices' created from 2-dimensional Pitch-Timbre graph.
Numerous vivid, unique background effects to make your audio results more natural than ever
An extra built-in audio recorder for capturing interesting conversations/messages (.wav, .mp3, etc), which you can then share with your friends for fun.
Assign shortcut keys to instantly change to a different voice, make adjustments or apply audio/background effects while you're in an online game.
Professional, transparent interface visually designed for a fantastic gaming experience.
Solo per oggi, AV VoizGame 6.0 è offerto gratuitamente.

Per usufruire dell'offerta dovete scaricare ed installare il programma cliccando sul link al fondo dell'articolo, dovete scompattate il file .ZIP, quindi avviare il file .EXE (se presente nel file) appena scaricato ed installate il programma seguendo la procedura di installazione guidata di AV VoizGame 6.0 ed una volta completata l'installazione cliccate sul file di testo ReadMe.txt per sapere come ricevere la licenza gratuita in modo da attivare la versione completa di AV VoizGame 6.0.
Potete scaricare AV VoizGame 6.0 gratis cliccando sul seguente pulsante: