SmartSniff: Analizzare il traffico TCP/IP che passa attraverso le schede di rete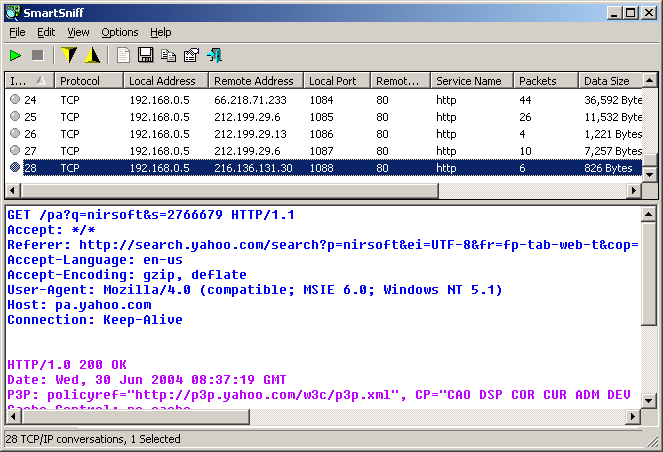 SmartSniff è un piccolo programmini gratuito per Windows che consente di catturare i pacchetti TCP/IP che attraversano la Scheda di Rete del nostro PC e dunque con la possibilità di visualizzare i dati acquisiti come una sequenza di conversazioni tra client e server.
Il processo di ascolto del traffico di rete in gergo si chiama "sniffare la rete" e con SmartSniff potrete sniffare la rete catturando le conversazioni TCP/IP in modalità Ascii per protocolli basati su testo, come HTTP, SMTP, POP3 e FTP oppure come dump esadecimale (per i protocolli di base non di testo, come DNS).
Informazioni pacchetti:
Process information is only displayed for TCP packets (It doesn't work with UDP)
Process information may not be displayed for TCP connections that closed after short period of time.
Retrieving process information consume more CPU resources and may slow down your computer. It's not recommended to use this feature if you have intensive network traffic.
Process information is currently not saved in ssp file.
SmartSniff può essere necessario per scoprire la password di Facebook o quella di GMail di un vostro amico che si è connesso sotto la vostra rete. SmartSniff è distribuito gratuitamente dalla NirSoft e potete scaricarlo cliccando sul link seguente: