Spegnere il PC ad un orario predefinito
Auto Power-on & Shut-down permette al tuo computer di andare in modalità risparmio energetico, compresi standby, ibernazione, spegnimento ad una data e orario specificato, ti aiuta a prevenire lo spreco di denaro con un sistema sempre acceso. Ti permette anche di avviare automaticamente il tuo computer per lavorare in un giorno e orario specifico, anche se il sistema è stato arresto in modalità ibernazione o standby. Con Auto Power-on & Shut-down, puoi divertirti di più. Svegliati ogni mattina al suono della tua musica preferita. Vai nel tuo ufficio e scopri che il tuo computer è già stato acceso per te. E quando vai via per tornare a casa, il programma ti aiuta a spegnere il computer, in modo tale che non si consuma.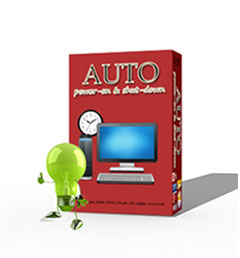 Solo per oggi, Auto Power-on and Shut-down 2.83 è offerto gratuitamente.

Per usufruire dell'offerta dovete scaricare ed installare il programma cliccando sul link al fondo dell'articolo, dovete scompattate il file .ZIP, quindi avviare il file .EXE appena scaricato e installate il programma seguendo la procedura guidata di Auto Power-on and Shut-down 2.83 una volta completata l'installazione cliccate sul file di testo ReadMe.txt per sapere come ricevere la licenza gratuita in modo da attivare la versione completa di Auto Power-on and Shut-down 2.83.
Potete scaricare Auto Power-on and Shut-down 2.83 gratis cliccando sul seguente pulsante: