Un tool AntiMalware efficace come pochi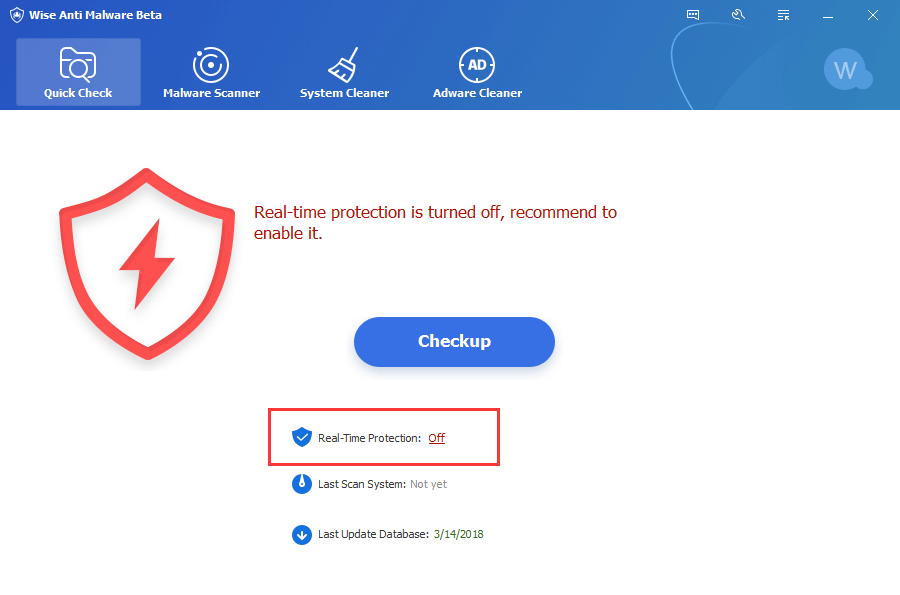 Wise Anti Malware è un programma potente ed affidabile di sicurezza, il suo scopo principale è di tenere il tuo computer libero da malware e anche di farlo funzionare tranquillamente.
Presenta una "protezione in tempo reale" compreso uno scudo malware, uno scudo adware e uno scudo registro; inoltre, tenendo d'occhio le app pop-up di pubblicità oppure scorciatoie AD e rimuovendole velocemente. Wise Anti Malware è una applicazione di sicurezza brillante che ti fa godere di una protezione a tempo pieno contro le minacce di Internet.
Features
Protect your PC in Real-time The most important feature of Wise Anti Malware is real-time protection, which is considered as the first guard to defend your PC against Malware threads. It has three shields, Malware detection, Adware detection, and Registry protection.
Malware shield: Detect and block malware threats Thanks to the cooperation with Avira Operations GmbH & Co. KG, Wise Anti Malware adopts its latest threat detection technology and the completed virus database to help you defend against all kinds of threats such as virus, malware, adware, phishing, spyware, ransomware and potentially unwanted applications (PUA/PUP).
Remove Pop-up AD Applications
Adware shield: Detect and block AD windows If you download a program from unsafe / unknown website, it may contain AD-supported application, and once it is installed on your computer, you will keep seeing pop-up Ads, news or else. Wise Anti Malware can clean such kind of application, fix IE homepage settings, remove AD desktop shortcuts.
Clean and Speedup System Wise Anti Malware can also help you clean up disk, remove temporary files created by Windows system and applications, clean internet history, cache files, cookies of Google Chrome, Mozilla Firefox, Microsoft Edge, Internet Explorer, Opera, Safari, and other Chromium browsers (Comodo Dragon, SRWare Iron, RockkMelt, Pale Moon, Yandex, Vivaldi).
Registry shield: Detect and prevent programs from adding new startup items into the registry.
Defend Against All Kinds of Malware Threats.
Solo per oggi, Wise Anti Malware Pro 2.1.1 è offerto gratuitamente.

Per usufruire dell'offerta dovete scaricare ed installare il programma cliccando sul link al fondo dell'articolo, dovete scompattate il file .ZIP, quindi avviare il file .EXE (se presente nel file) appena scaricato ed installate il programma seguendo la procedura di installazione guidata di Wise Anti Malware Pro 2.1.1 ed una volta completata l'installazione cliccate sul file di testo ReadMe.txt per sapere come ricevere la licenza gratuita in modo da attivare la versione completa di Wise Anti Malware Pro 2.1.1.
Potete scaricare Wise Anti Malware Pro 2.1.1  gratis cliccando sul seguente pulsante: