Velocizza il Computer mentre Giochiamo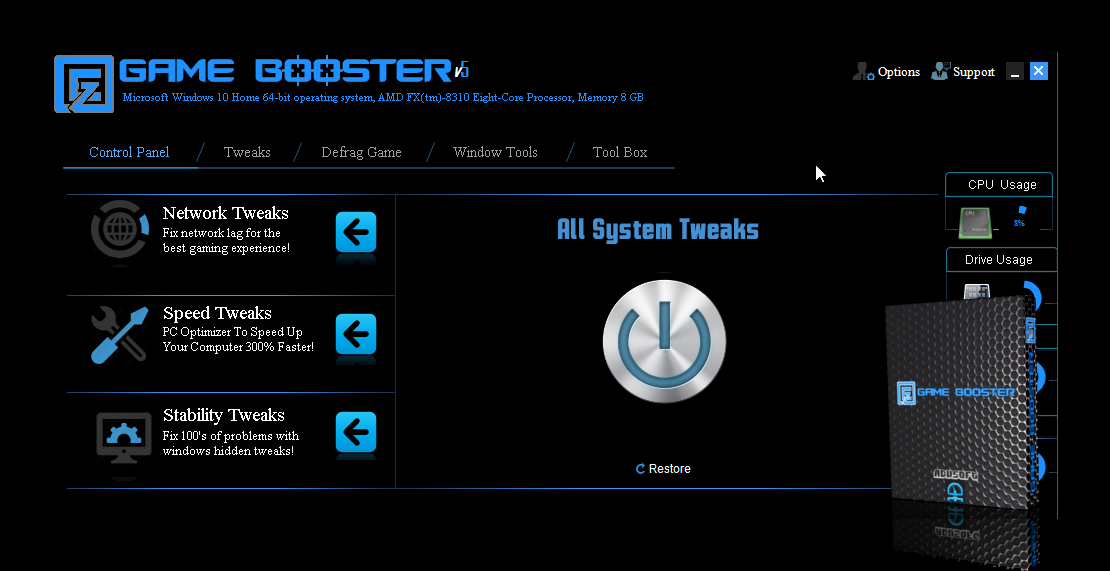 Migliora le massime prestazioni mentre giochi, riorganizzando le risorse del computer e chiudendo servizi di sistema e non-window inutili.
Individuazione in tempo reale del CPU, spazio del disco, e uso della memoria per ottimizzare il tuo PC per le prestazioni durante il gioco.
EZ Game Booster offre la deframmentazione del disco mentre viene ottimizzata, semplificando i tuoi file in base alla frequenza d'uso. Oltre 50 tweak utili per la tua rete, core non parcheggiati, velocità di sistema, e stabilità di sistema. La maggior parte dei giocatori ottengono un aumento del 10-30% nelle prestazioni in tutti i giochi o programmi.
Fix stubborn errors, cleans out clutters, optimizes Internet speed, ensures personal security and maintains maximum computer performance in a more secure, stable, smart, automatic and reliable way.

Optimizes your system for games by temporarily suspending unnecessary processes, individually or all at once, to focus resources on gaming performance.
NB: La licenza offerta è valida per un anno
Solo per oggi, EZ Game Booster 1.6.3 è offerto gratuitamente.

Per usufruire dell'offerta dovete scaricare ed installare il programma cliccando sul link al fondo dell'articolo, dovete scompattate il file .ZIP, quindi avviare il file .EXE (se presente nel file) appena scaricato ed installate il programma seguendo la procedura di installazione guidata di EZ Game Booster 1.6.3 ed una volta completata l'installazione cliccate sul file di testo ReadMe.txt per sapere come ricevere la licenza gratuita in modo da attivare la versione completa di EZ Game Booster 1.6.3.
Potete scaricare EZ Game Booster 1.6.3 gratis cliccando sul seguente pulsante: