Visualizzare le dimensioni di tutti i file e cartelle sul nostro Computer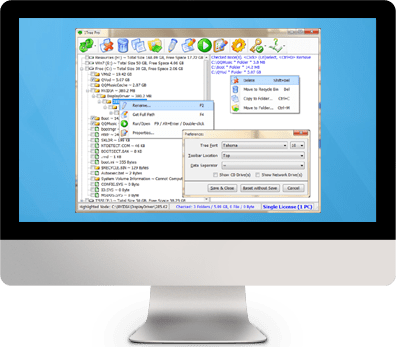 Visualizza la dimensione di tutti i drive/cartelle/file in una visualizzazione ad albero.
Features
Esegue le risorse in modalità batch;
Seleziona le risorse per dimensione in order decrescente;
Unità intelligente e decimale per la dimensione delle risorse;
Comandi comuni e funzione di copia dell'intero percorso;
Interfaccia personalizzabile.
Changelog
Version
Release/Update Date
Features / Improvements
Bug Fixes
3.0
Aug 27, 2017

Important: shows the progress and tells you what it is doing on the Splash (start) interface, to avoid that you thinking the program does not respond. Greatly improved the friendliness.

Important: cannot compute the size for a few system folders, in previous versions, display as "Cannot Compute Size".

2.1
Oct 16, 2015

Important: perfected UI effect for any system DPI setting, in any supported Operating Systems (system DPI setting: in Windows 7, it can be changed at "Control Panel -> Appearance and Personalization -> Display -> Make text and other items larger or smaller").
Important: supports Windows 10.
Important: uses Golden Ratio for the start position of the main and splash interfaces.
Optimized internal efficiency.
Optimized the definition of some icons/images.
Optimized Help menu.
Optimized software texts.
Beautified About interface.
Solo per oggi, 1Tree Pro 3.0 è offerto gratuitamente.

Per usufruire dell'offerta dovete scaricare ed installare il programma cliccando sul link al fondo dell'articolo, dovete scompattate il file .ZIP, quindi avviare il file .EXE (se presente nel file) appena scaricato ed installate il programma seguendo la procedura di installazione guidata di 1Tree Pro 3.0 ed una volta completata l'installazione cliccate sul file di testo ReadMe.txt per sapere come ricevere la licenza gratuita in modo da attivare la versione completa di 1Tree Pro 3.0.
Potete scaricare 1Tree Pro 3.0 gratis cliccando sul seguente pulsante: