WinToUSB 2.0: Come installare Windows utilizzando una chiavetta USB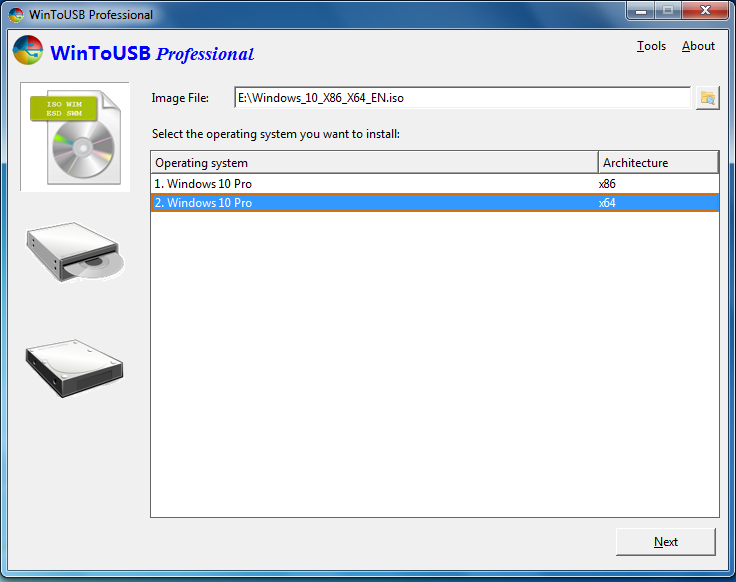 Oramai CD e DVD sono morti e si sono diffuse a macchia d'olio le chiavette o drive USB che permettono di trasportare dati ma anche interi sistemi operativi in modo da essere pronti per essere installati ovunque ci troviamo. La semplice installazione di Windows è possibile farla direttamente da una chiavetta USB senza utilizzare il "vecchio" DVD. WinToUSB è un programma gratuito per Windows che permette di copiare i file di installazione di Windows su un'unità USB per eseguire l'installazione da tale unità.
Questo può essere utile in numerose occasioni quando ad esempio vi trovate davanti ad un notebook recente che non ha l'unità ottica integrata e dunque dovete installare il sistema operativo ex novo senza partire dalla partizione di recovery.
L'utilizzo di WinToUSB è molto semplice, emula perfettamente la funzione di Windows To Go in Windows 8 Enterprise che consente agli utenti di avviare il sistema operativo utilizzando un drive USB. Il programma è molto facile da usare e potrete creare la vostra chiavetta USB seguendo pochi e semplici passaggi descritti di seguito:

Installare ed Eseguire WinToUSB sul computer.

Selezionare la terza opzione a sinistra tra le opzioni disponibili nell'interfaccia del programma.
WinToUSB visualizzerà le informazioni di sistema e Fare clic su Avanti
Il programma visualizzerà un messaggio che informa l'utente che WinToUsb ha bisogno di costruire un'immagine WinPE, operazione che potrebbe richiedere alcuni minuti e selezionare SI.
Selezionare il disco di destinazione (chiavetta USB) e poi la partizione di partizione di avvio e di sistema.
Fate clic su Avanti.

Viene visualizzata una richiesta di riavvio.

E fate clic su SI.
Lo sviluppatore ci fa notare che non tutte le chiavette USB supportano la funzione di avvio con una copia di Windows e dunque è meglio provare con una chiavetta da almeno 32GB di recente costruzione. Potete avviare da USB una qualsiasi ISO, CD o DVD di Windows 7, 8, 8.1,10 Technical Preview,2008 R2, 2012, 2012 R2 and WinPE 2, 3, 4 e 5.
Potete scaricare WinToUSB gratuitamente cliccando sul link seguente: