Disinstallare programmi inutili velocemente
Con Bulk Crap Uninstaller potrete disinstallare facilmente i programmi inutili
Avete comprato un notebook o computer desktop nuovo fiammante ma già al primo avvio vedete installati una marea di programmi totalmente inutili? Ecco la soluzione, si chiama Bulk Crap Uninstaller ed è un programma che permette di disinstallare un programma facilmente con pochi click.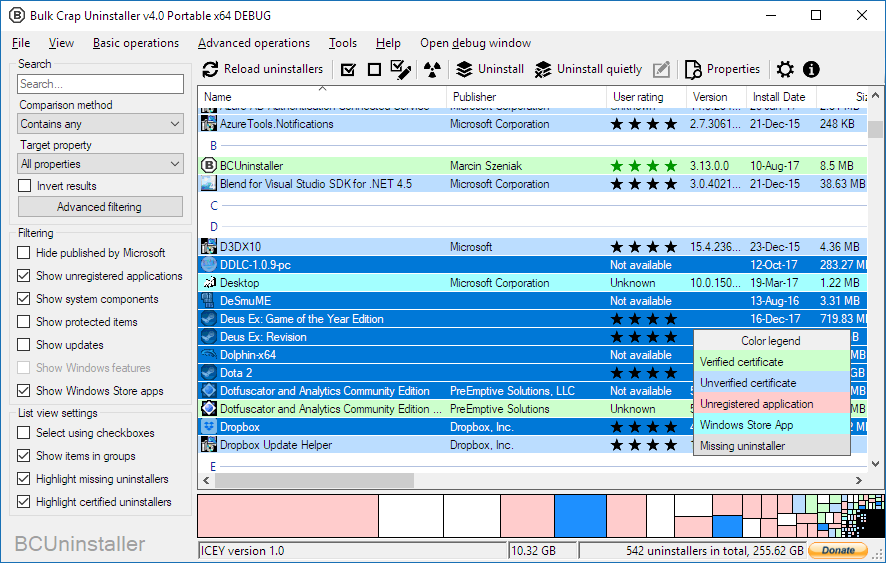 Purtroppo i vari produttori di computer inseriscono dei programmi all'interno del PC, vuoi per accordi commerciali, vuoi per offrire alcuni programmi di base per iniziare ad usare un computer, ecco che dopo pochi minuti di avvio del nuovissimo PC ci accorgiamo che sono presenti applicazioni non desiderate, come eBay, numerose app di gestione del produttore, Adobe Reader, programmi di modifiche varie e molto altro.
Tutti questi programmi sono inutili e possiamo rimuoverli con pochi click grazie a Bulk Crap Uninstaller.
Come si usa Bulk Crap Uninstaller?
Usare Bulk Crap Uninstaller è davvero facile ed al primo avvio un wizard ci guiderà alla configurazione iniziale.
Selezionando la voce Select using checkboxes nella scheda UNINSTALLER LIST VIEW e poi su tutte le voci presenti in ADVANCED USER avremo selezionato le migliori opzioni per avviare una scansione completa dei programmi installati sul nostro PC.
Una volta finita la scansione sarà sufficiente cliccare sul quadratino bianco sui programmi che vogliamo disinstallare e poi sul pulsante in alto Uninstall.
La procedura di disinstallazione si avvierà velocemente rimuovendo tutti i programmi inutili dal vostro PC.
Features Bulk Crap Uninstaller
Detection and uninstallation of Windows Store apps
Uninstallation of multiple items at once (with collision prevention)
Advanced grouping, sorting, filtering and searching
Automatic detection and closing of running applications
Automatic updating and error reporting
Custom commands can be executed before and after uninstallation
Editing tools and backup creation – can generate .reg files and remove junk to recycle bin
Fully portable, requires Net 3.5 which is installed on all Windows 7 machines by default
Quiet (unattended) uninstall of many programs when they don't openly support it
Visibility of protected and invalid entries (system uninstaller doesn't see them)
Video del funzionamento di Bulk Crap Unistaller.
Potete scaricare Bulk Crap Unistaller gratuitamente nell'ultima versione disponibile